You've been watching this newest iteration of Barcelona that has been running roughshod since the first of the year all over Spain, Manchester, Paris, Munich and finally Berlin. You're impressed. Whether it is the matches live or the Vines that keep getting retweeted hours and days later, Barcelona is on the perpetual verge of goals and transcendence.
Lionel Messi, Luis Suarez and Neymar have become a shatterer of worlds this season, slowly developing the chemistry to form an attacking trio unlike any we've ever seen.
Suarez made his Barcelona debut in El Clasico back in October against a Real Madrid team looking indestructible. Suarez assisted to Neymar in the third minute, but the assimilation process wouldn't be quite that quick with Madrid coming back to win with a convincing 3-1 result. The next two and a half months were bleak, confusing and full of crisis that nearly cost Luis Enrique his job as manager.
But it all reassuringly turned against Atletico Madrid in January with Messi, Neymar and Suarez each scoring and running in celebration shoulder to shoulder as a symbolic preamble for what would come for the remainder of the season on their way to the treble. The video and photograph is already iconic and accompanies this piece. When these three players are discussed and celebrated 50 years from now, this is the image your grandchildren will see and associate with 14-15 Barcelona.
While the Atleti match is where they took flight, those moments would not have been possible without Messi's critical decision to move wide right during the middle of a Champions League match at Ajax in November. Suarez had moved from the right to the center during an attack and began to move back to the wing until Messi motioned for him to stay there. Barcelona's 4-3-3 immediately made sense and the ball flowed through with considerably more ease, precision and velocity. It took two more months for the results to follow, but Messi's willingness to concede the middle to Suarez in the way he hadn't to any Barcelona striker in the past changed this season from a transitional season to a treble season.
Messi and Suarez grew close off the pitch as well this season, signaling maturity for both players coming out of a 2014 that had both triumphs and failures. Messi was plagued by injuries yet led Argentina to the World Cup Final that ended in heartbreak. Messi re-committed himself to his fitness this season and it showed in his newly tattooed physique and in his play. For as much as Messi seemed unambiguously destined to become an all-time great once he got past his growth hormone deficiency, it is easy now to forget just how frequently he was injured in his first few seasons with Barcelona.
Suarez had one of the greatest seasons in Premier League history in 13-14, nearly leading a flawed Liverpool club to their first domestic title since 1990. He then went on to score two monumental goals against England (and for Suarez their media as well) before it all fell apart with his bite of Giorgio Chiellini in the next match.
The nature of FC Barcelona is that world class players will be all over the pitch, but there has been a continual commitment to investing in attacking players to pair with Messi. There has been a tremendous amount of talent to come through Barcelona, but it has never worked this well and it too often took Tiki Taka football and Messi as a False 9.
06-07: Messi, Eto'o, Ronaldinho
07-08: Messi, Eto'o, Henry (Ronaldinho)
08-09: Messi, Eto'o, Henry
09-10: Messi, Zlatan, Pedro
10-11: Messi, Villa, Pedro
11-12: Messi, Alexis, Pedro
12-13: Messi, Pedro, Alexis/Villa
13-14: Messi, Neymar, Alexis
At Bayern in the second leg of the semifinals, we saw Messi drop deeper and facilitate the play for Suarez and Neymar to finish their goals. Those assists of course came after his two transcendent goals in the first leg late in the match when it looked like Pep Guardiola would miraculously manufacture a 0-0 result.
Suarez gives Messi space vertically and Neymar stretches the other side of the pitch horizontally. These three players have the individual quality to run an XI entirely on their own, but they still somehow have found a way to become even greater than the sum of their parts.
Messi didn't score in the Champions League Final as he did a week earlier in the Copa del Rey, but he initiated both goals of consequence; playing a diagonal ball from right to left the unlocked the Juventus' defense and a second very direct in which his take on just outside the area. Messi remains capable of dribbling through an entire side the way he did against Athletic, but his legs only allow for so many of those per match and per season as he ages.
That mesmerizing, once a generation dribbling part of his game will slowly but steadily go extinct over the next few years the way LeBron's dunks become more infrequent, but triple threat Messi where he can dribble, shoot or pass will age exceptionally well within this new Barcelona identity. That's the big picture perspective; Messi did complete 10 of 16 take-ons against Juve after all.
Barcelona played far more direct this season, but Luis Enrique was right in his prediction that it was simply "nuances that enrich our approach" rather than a complete abandonment of the foundation of the club. The first goal of the Champions League Final was an old school Barça goal in which nine out of their 10 outfielders touched the ball eventually culminating in a score for Ivan Rakitic. This was vintage Tiki Taka, passing the ball around until the defense falls down and Barcelona walks the ball into goal.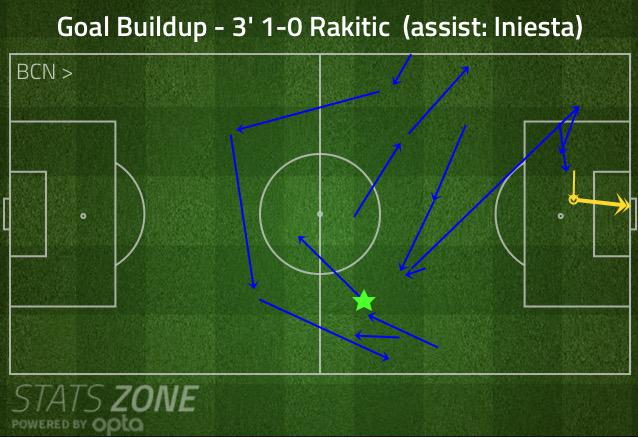 The second goal represented the future of Barcelona; Rakitic to Messi near midfield, Messi dribbles it to the edge of the box for a shot on goal and Suarez (with Rakitic there as well) smashes the rebound into the back of net.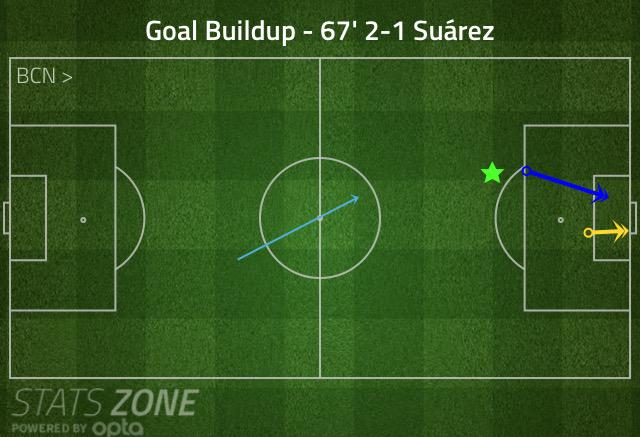 In Xavi's final match with Barcelona, all three goals were scored by players acquired by the club in the past two seasons for a combined cost of nearly €200 million. La Masia products remain (five technically started, though Pique and Jordi Alba left and were brought back home via transfer), but not in the same quantity as 2011. Spain may still be the richest land of midfielders, but both Barcelona and Real Madrid have their own invaluable Croatian. It's no longer just the attacking players who are being outsourced.
The favorite derisive criticism of the Pep-era Barcelona clubs was that they only possessed one way of beating you. That was always true yet not quite because Messi could always just slalom through any defense in an instant. Barcelona is now bigger, faster, stronger and more athletic in attack and in defense. They are more organized in defense, no longer aggressively pressing as high and are no longer as vulnerable to set pieces, as possession of the ball is no longer their best defense.
The two goals above show how Barcelona can beat you both ways with equal ease and that will make Barcelona the favorite in every competition for as long as Messi, Suarez and Neymar remain in their primes, which should be several more seasons as they're nearly 28, 28 and 23 respectively. Neymar scored a final goal at the very end of the final for the trio to finish the season with 122.
Barcelona has created and mastered a new language of greatness that can dismantle any club in the world in a number of different credible ways, embracing the currency of counterattacking and knowing their South American trio has the creativity and explosiveness to overwhelm and dominate.