Costa Rica Wiretap
World Cup Snapshot: Brazil 2, Costa Rica 0
What happened in one snapshot in the 2018 World Cup, Match 24, Group E: Brazil 2, Costa Rica 0.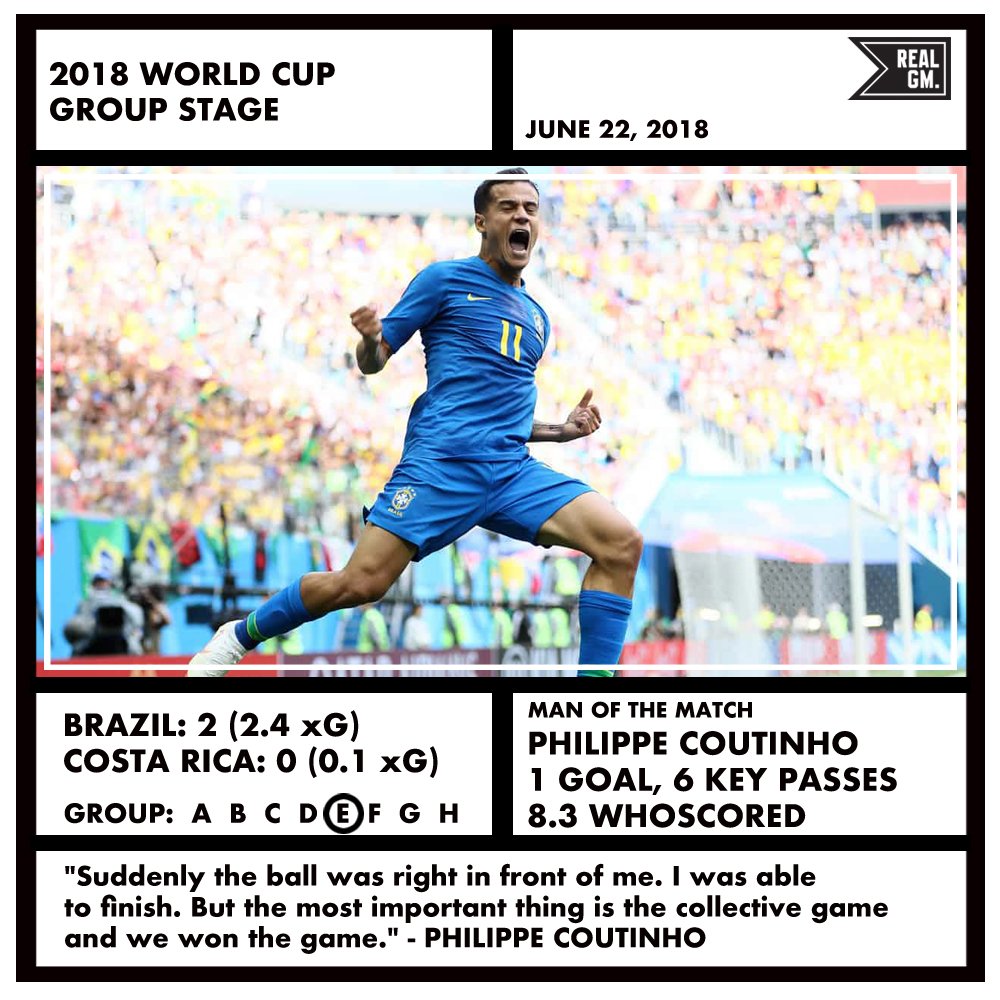 World Cup Snapshot: Serbia 1, Costa Rica 0
What happened in one snapshot in the 2018 World Cup, Match 9, Group E: Serbia 1, Costa Rica 0.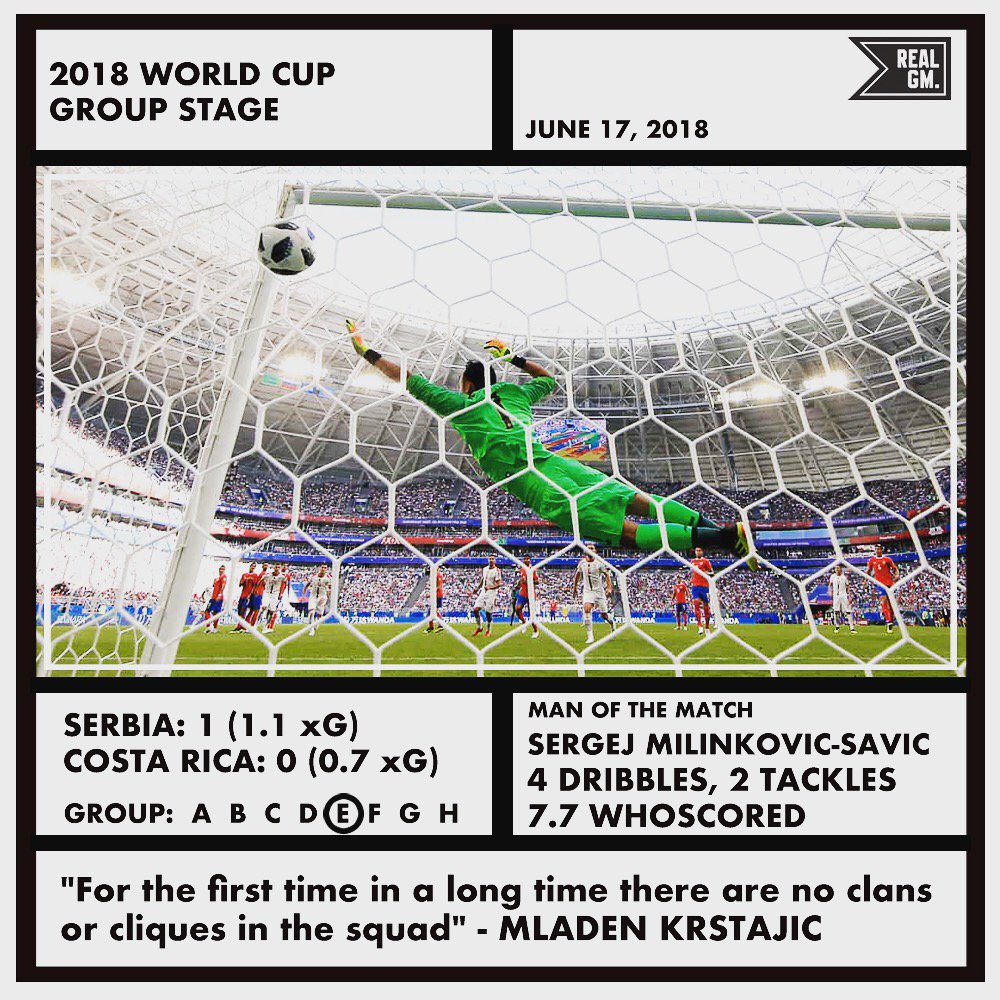 Copa America Groups Announced
The United States drew Colombia, Costa Rica and Paraguay in their group for the Centennial Copa America.
The United States will play Colombia in their first match of the group stage at Levi's Stadium on June 3rd.
GROUP A
United States
Colombia
Costa Rica
Paraguay
GROUP B
Brazil
Ecuador
Haiti
Peru
GROUP C
Mexico
Uruguay
Jamaica
Venezuela
GROUP D
Argentina
Chile
Panama
Bolivia
Three Words Most Often Used To Describe All 32 World Cup Teams
Cambridge University Press has completed a study to find the three words most frequently used during the World Cup to describe all 32 teams.
The team at Cambridge scoured over 15,000 football-specific online sources to produce the following chart.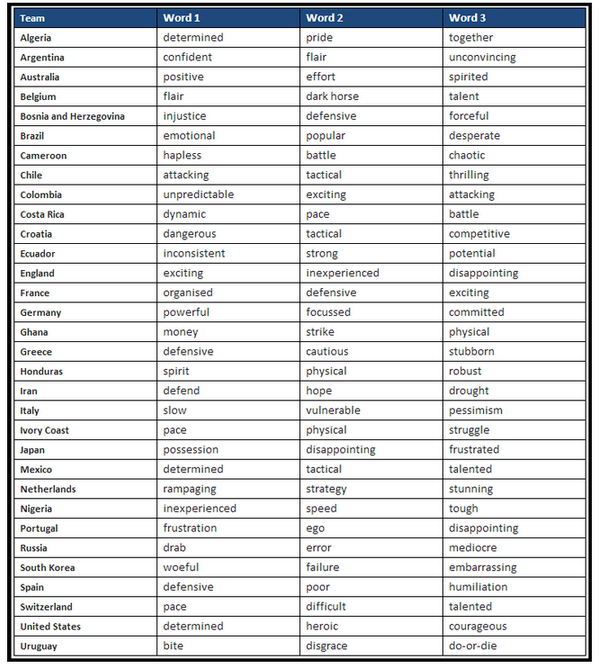 Messi, Robben, James, Neymar, Howard Headline World Cup Best XI
Lionel Messi headlines the WhoScored Best XI leading up to the World Cup Final with a rating of 8.77.
Arjen Robben ranks second, followed by James Rodriguez, Neymar and Miralem Pjanic.
Tim Howard is in goal behind a back line of Ron Vlaar, Stefan de Vrij, Serge Aurier and Ricardo Rodriguez.
Thomas Müller, who has scored five goals with three assists, is also on the team.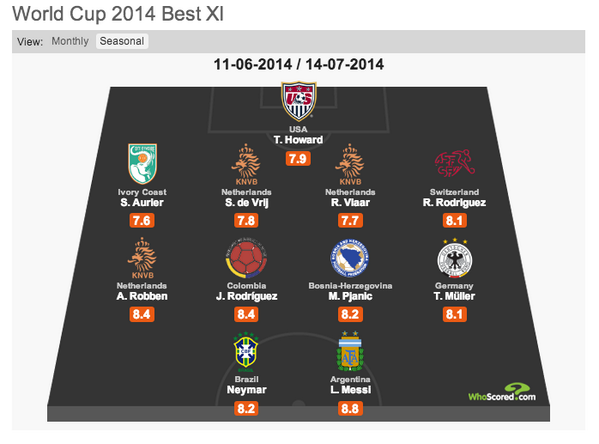 Nigel De Jong Likely Out For Quarterfinal
Nigel de Jong will likely miss the Netherlands' quarterfinal match on Saturday against Costa Rica due to a groin strain.
"De Jong had a small groin strain and I was forced to substitute him," Louis van Gaal explained.
"I don't know if he will be available for the quarter-final, though to be honest it's very unlikely he will be able to play the next match.
"He is one of my most important players, so this is an enormous loss for us."
70 Percent Chance Brazil, Argentina, Germany Or Netherlands Win WC
The most probable World Cup quarterfinalists in order of likelihood are Germany (87%), Argentina (76%), Brazil (73%), France (67%), Netherlands (64%), Greece (58%), Colombia (54%) and the United States (50%).
In terms of winning the World Cup, Brazil are still most likely to do so (23.4%), but Argentina (19.3%) and Germany's chances (15.6%) are much closer than many believed prior to the start of the tournament. The Netherlands (10.5%) are fourth favorites with nearly double the chance of fifth favorites Colombia (5.4%).
There is just under a 70% chance that this year's World Cup winners will come from Brazil, Argentina, Germany or the Netherlands.

Adios Group D: Costa Rica, Uruguay Advance
Costa Rica and Uruguay have advanced out of Group D with seven points and six points respectively.
Italy and England were eliminated with three points and one point.
Costa Rica will play Greece in the Round of 16, while Uruguay draws Group C winner Colombia.
Joel Campbell was RealGM's pick for #ManOfTheGroup and here's the other 10 players in the WhoScored Best XI.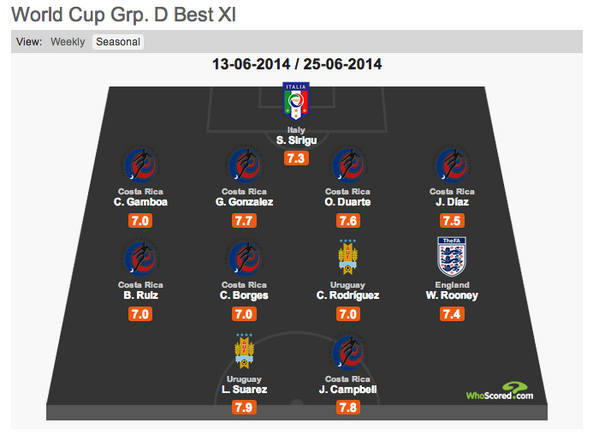 Suárez Won't Start Against Costa Rica
Luis Suárez will not start for Uruguay in their match on Saturday against Costa Rica.
Suárez is recovering from keyhole knee surgery, which was undergone just three weeks ago.
"He actually played football [on Thursday] with his team-mates," Óscar Tabárez said. "Obviously, it was not at the level of demand that you would see in a match but you can never play at that level in a training session. We don't want to jump the gun on Luis and we have prepared this match without counting on him. It would be wonderful to have him in top form but we have to be very careful. He is recovering very well, we are delighted about that but we have to manage things very carefully indeed."
Spain, Germany, Brazil Ranked 1-3 In Final FIFA Rankings Before WC
Spain enters the World Cup with the top spot in the final FIFA rankings ahead of the tournament.
Germany, Brazil, Portugal and Argentina round out the top-five.
Here's the breakdown of the FIFA rankings by group:
Group A - Brazil (3), Cameroon (56), Croatia (18), Mexico (20). Total 97.
Group B - Australia (62), Chile (14), Netherlands (15), Spain (1). Total 92.
Group C - Colombia (8), Greece (12), Ivory Coast (23), Japan (46). Total 89.
Group D - Costa Rica (28), England (10), Italy (9), Uruguay (7). Total 54.
Group E - Ecuador (26), France (17), Honduras (33), Switzerland (6). Total 82.
Group F - Argentina (5), Bosnia-Herzegovina (21), Iran (43), Nigeria (44). Total 113.
Group G - Germany (2), Ghana (37), Portugal (4), USA (13). Total 56.
Group H - Algeria (22), Belgium (11), Russia (19), South Korea (57). Total 109.
Four World Cup Teams Have German Manager
Argentina, Colombia, Italy and Portugal each have three managers, while Bosnia and France have two apiece.
Roger Bennett: Soccer Is Perfect Sport For Internet Era
Roger Bennett moved to the United States in 1996 and had to follow big Everton matches by telephone with his father holding the receiver up to the radio.